The Google app learned a few new tricks in its jump up to version 5.4. The update fixes some animation weirdness, improves the work/home settings, and offers clues into deeper ties with Android Wear.
Why this matters: The Google app is the home for a ton of Google features on your smartphone. Along with powering Google Now, it also controls many of the features of the Google Now Launcher and how your account integrates with the company's services. So anytime there's an update to the Google app, it's worth paying attention.
Smoother animation
There's no longer an ugly, gray bar that hangs around when you swipe away a card. Instead, the card slowly fades into the background when you push it off the screen.
There's no new functionality with this, but at least it looks better. Google tweaks these type of things on the time, so this surely won't be the last one.
Places are easier to find
Now when you touch Settings > Customize you'll see a prominent spot at the top of the page for Places. This is where you can tell Google your home and work address.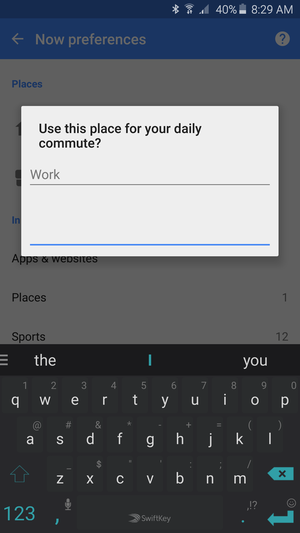 As creepy as it sounds, it's actually rather helpful because Google will notify you about your commute status and offer a map for getting back home when you're out and about.
More ties to Android Wear
This last observation is speculative, and comes courtesy of investigative work by Android Police. 
The code seems to lay the groundwork for a new APK for Android Wear. In practice this could mean the Google app will take over the responsibility for your Google Now cards on an Android Wear watch. This would keep in line with Google's recent pattern of shifting ever more responsibility to the Google app. 
We may know more when there's a Marshmallow build that's ready for Android Wear smartwatches.
Google app version 5.4 is now on APK Mirror and rolling out to the Play Store.
This story, "Google app update smoothes out animations, offers hint of new Android Wear integration" was originally published by Greenbot.