PlayStation Vue FAQ: Everything to know about Sony's cable TV alternative
Sony's PlayStation Vue TV service just got a lot more interesting. Here's what cord cutters need to know.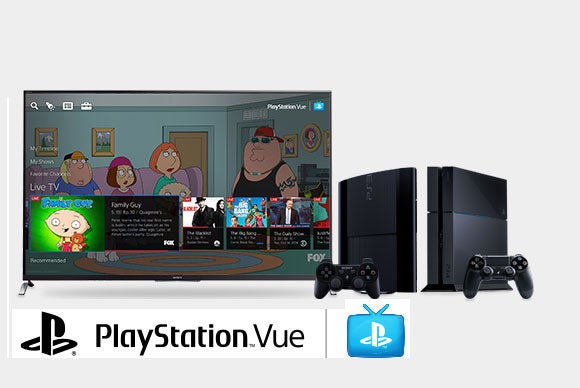 For about a year, Sony's PlayStation Vue streaming service was barely worth paying attention to.
At launch, the cable-TV alternative only worked on PlayStation game consoles, and although Sony expanded availability late last year, Vue was still only available in a handful of U.S. markets. It didn't help that Vue lacked channels from the Disney media empire, including ESPN.
Everything changed earlier this month, when PlayStation Vue launched nationwide and added ESPN and other Disney-owned channels to its lineup. We'll have a full review of PlayStation Vue—and a detailed comparison to rival Sling TV—in the coming weeks. In the meantime, here's everything you need to know about how Sony's streaming service works.
What exactly is PlayStation Vue?
PlayStation Vue is an online video service from Sony that replaces cable or satellite TV. In exchange for a monthly subscription, you get a big bundle of live TV channels, such as ESPN and CNN, along with DVR-like features and on-demand programming, all available on a variety of Internet-connected devices.
How much does it cost, and what's included?
In a handful of markets (Chicago, Dallas, Los Angeles, Miami, New York City, Philadelphia, and the San Francisco Bay Area), service starts at $40 per month for more than 55 channels.
All other U.S. markets have "Slim" versions of the channel lineup for $30 per month, with one difference: ABC, NBC, and Fox only include on-demand videos from network shows, rather than live local broadcast feeds. The base price depends entirely on the zip code you live in, as there's no way to add local programming to the $30-per-month plan and no way to get the Slim package in areas where the $40-per-month plan exists.
No matter where you are, you can pay an extra $5 per month for a larger "Core" package that adds regional sports and a few other channels, or pay an extra $15 per month for the "Elite" bundle, which adds even more regional sports and special-interest channels.
A chart with the entire PlayStation Vue channel list appears at the bottom of the page.
Do I need a PlayStation console to use the service?
No, but if you don't have a PlayStation 3 or PlayStation 4, the only way to complete the sign-up process is through Amazon's Fire TV or Fire TV Stick media streamers.
What other devices does PlayStation Vue support?
Once you've signed up, you can also access the service on an iPhone or iPad with the PlayStation Vue mobile app. Some channels, however, are not available for mobile viewing, and some individual shows may not be available either.
Google Cast-enabled TV devices such as Chromecast are also supported through the iOS app, and thankfully, the usual restrictions on mobile viewing do not apply.
At the moment, there's no word on support for other platforms, such as Android, Roku, Xbox, PC, Mac, or the web.
How is this different from cable or satellite TV?
PlayStation Vue could be cheaper than traditional TV service, but it depends on your needs and what kind of bundles your local TV service provider offers.
The main advantage PlayStation Vue offers is the technology, which lets you bookmark favorite TV channels, get recommendations on shows you might like, save shows to a cloud DVR for access across different devices, and create separate profiles for each family member. Most set-top boxes haven't yet reached this level of sophistication.
There's also something to be said for Sony's transparent billing, which doesn't involve any installation fees, hidden fees, equipment rental costs, contracts, or annual pleas to customer service for lower rates.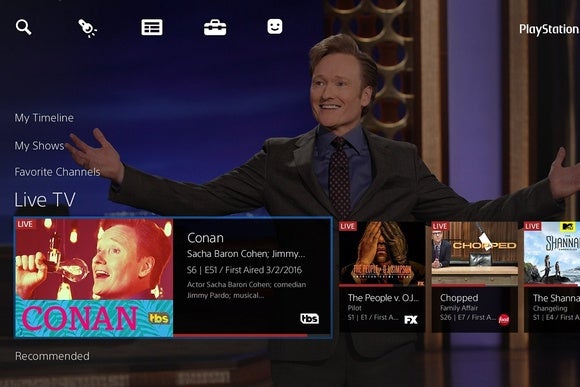 Will cable users be comfortable with this service?
It might take a little getting used to, since the interface focuses on favorites and recommendations rather than a traditional channel grid. But if you want a more familiar layout, there is a "Guide" button in the top menu bar. (The main difference is that show times appear along the Y-axis, and channels are along the X-axis, which is the opposite of how most program guides work.)
How does cloud DVR work?
PlayStation Vue lets you add shows to a "My Shows" list, which automatically saves new episodes for 28 days after airing. Compared to the scheduling process and storage limits of a traditional DVR, Vue is supposed to be less hassle. On the downside, you only have a limited time to catch up on past programming.
Are shows available on demand?
Each channel includes a grab-bag of shows that you can watch on demand. Some channels also include three days' worth of "Catch Up" programming after a show airs.
Are there commercials?
PlayStation Vue mimics traditional TV service in this regard, so you'll get commercial breaks while watching channels in real time. The on-demand catalog often includes mandatory ads as well. You can only skip through ads for shows you've stored with the cloud DVR.
Can you time-shift live programming?
Yes, but with limits. On PlayStation consoles, you can pause for up to 30 minutes on live programming. On other devices, such as Fire TV, the video automatically starts playing again after just a few minutes. And some channels, such as ESPN and Comedy Central, don't allow you to manually fast forward through the time-shifted video without returning straight to the live feed.
In other words, PlayStation Vue's time-shifting features allow for quick bathroom or snack breaks, but you can't necessarily pause a program and then skip through all the commercials.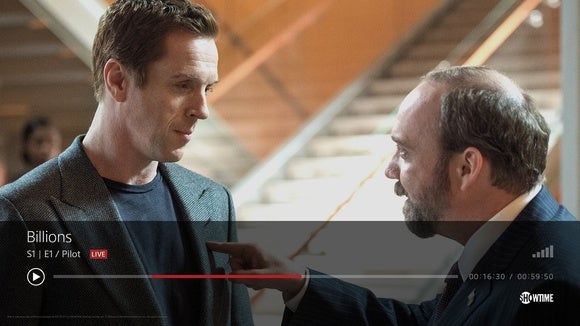 Can users authenticate with TV Everywhere apps?
Yes, PlayStation Vue currently supports logging into more than 50 TV Everywhere apps, such as Watch ABC, Watch ESPN, Fox Sports Go, and Comedy Central. You can even use these apps on platforms that don't have a PlayStation Vue app. Just select "PlayStation Vue" as your TV provider when authenticating, and enter your login details.
Can you add premium channels, such as HBO?
HBO in particular is not available through PlayStation Vue, but you can add Showtime for $11 per month, or Showtime and Epix Hits as a $14-per-month package deal. And if you subscribe to PlayStation Plus, Sony's online gaming service, those prices drop to $9 per month and $11.50 per month respectively.
Outside of PlayStation Vue, HBO does offer its own standalone streaming service, called HBO Now, but it's not currently available on PlayStation consoles. Fire TV and Chromecast users can subscribe to HBO Now for $15 per month.
Limits on account sharing or simultaneous streams?
Oh yes. The biggest restriction is that all TV devices must be tied to a single address, which means no sharing passwords with your cousin across the country or bringing your console to a friend's house. If you violate this rule, you may be blocked from using the service; and to make things even scarier, Sony says you can only change your own address one time. (We've received one report of problems with dynamic IP addresses due to Sony's location restrictions, though this seems to be an issue with the Internet provider mapping out IP addresses to the wrong location.)
As for simultaneous streams within the home, PS3 and PS4 consoles are each limited to one device streaming at a time (although you can have one PS3 and one PS4 streaming simultaneously). Aside from that restriction, the streaming limit is five devices at a time.
Are there blackouts for sports?
Yes, but they're no different than cable or satellite TV. For instance, if a game is airing on broadcast TV instead of your regional sports network, and you don't get local channels, you're out of luck. (Consider buying an over-the-air antenna if you live close enough to a broadcast tower.)
What's the quality of video playback?
The maximum resolution is 720p. On PlayStation consoles, you get smooth 60 frames per second for most sports programming, but only 30 frames per second on other devices such as Fire TV.
How much bandwidth does PlayStation Vue consume?
The service will adapt its bitrate depending on what you have available, but Sony recommends having a 10 Mbps Internet connection at home, and will use around 5 Mbps per stream.
Will prices go up after a year or two, like cable?
So far, prices have been trending downward, and Sony has pointed to its transparent, non-contract pricing as a selling point. Still, there's no guarantee that prices won't change at some point in the future.
Is it easy to change or cancel the service?
It's much easier than cable. PS3 and PS4 users can cancel directly through the app's settings menu, and everyone else can cancel through their account settings on psvue.com. There's no cancellation cost, and best of all, no customer-retention specialists to deal with.
Here's the full PS Vue channel list:
(click to enlarge)

Have I missed anything? Say so in the comments, or ask me on Twitter.
This story has been updated to include more details on bandwidth, TV Everywhere authentication, resolution, "Slim" packages, and a potential issue with dynamic IP addresses.