Intel Core i9: Everything we know about Intel's hypercharged PC processor
Intel's Core i9 is possibly the most powerful family of consumer PC chips ever made.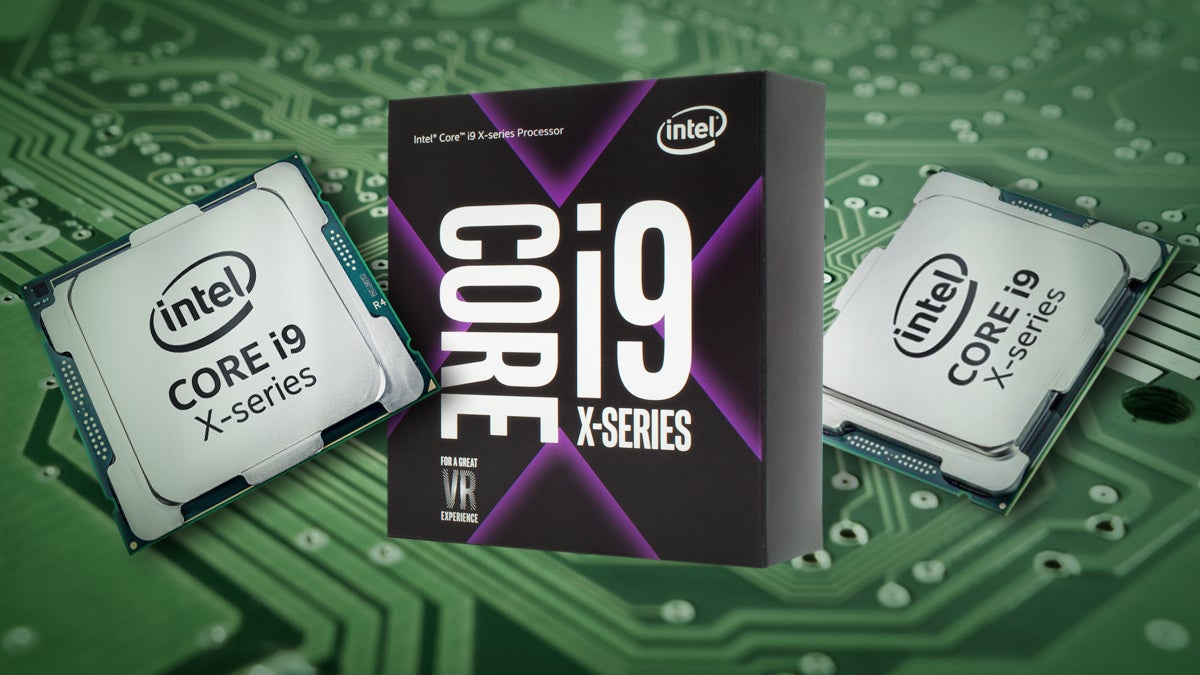 Intel's Core i9 processor is what happens when Intel begins to worry that it might not have the baddest chip on the block. And if you're desperate to know how it performs against AMD's Threadripper, you'll want to read up on the latest details on Core i9 speeds—including for the 18-core Core i9-7980XE.
Read on for the speeds, feeds, and prices of the new Core i9 chips, and all the details we have on the underlying technologies. In addition to the new Core i9 specs, we now know how the Core i9 performs as part of our review, and the price and availability of X299 motherboards. We'll update this post with new information and testing as we receive it.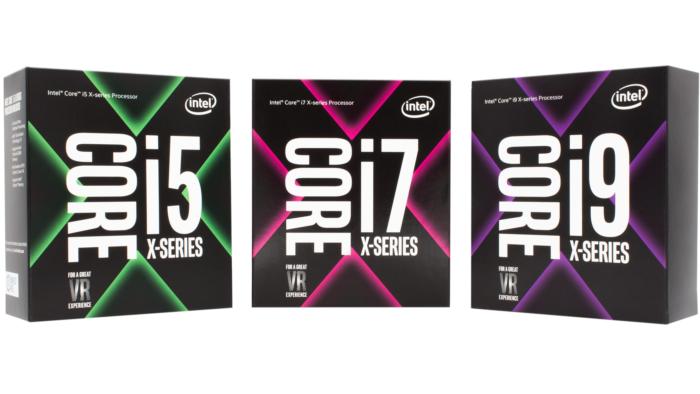 The latest news
Most likely to steal some attention away from the eagerly awaited AMD Threadripper reviews due soon, Intel filled in the remaining gaps on its spec sheet in early August. The company revealed the clock speeds, TDP power estimates, and ship dates for its four most powerful Core i9 chips: the 12-core Core i9-7920X, the 14-core Core i9-7940X, the 16-core Core i9-7960X, and the 18-core Core i9-7980XE. The 12-core Core i9-7920X launches August 28, while the 14-, 16-, and 18-core Core i9 chips ship on September 25.
That's slightly earlier than expected, as Intel had previously listed October as the ship date for the 18-core Core i9-7980XE. 
Basic specs: Clock speed, core count, prices, ship date, power
The processor specs that matter most concern performance. The raw clock speed determines how fast any one thread can be acted upon, while the core and thread counts control how many threads or tasks can be calculated in parallel. The Core i9 series excels in these metrics. But you'll pay a hefty premium for that talent.
Finally, Intel has announced all of the clock speeds of the Core i9 family. They're all unlocked, too—ready and waiting to be overclocked. Here's a summary of the core counts and prices of the Core i9 chips we do know, including clock speeds where available.
Core i9 Extreme Edition:
Core i9-7980XE: (2.6GHz, 4.4GHz burst) 18 cores/36 threads, $1,999 
Core i9:
Core i9-7960X: (2.8GHz, 4.4GHz burst) 16 cores/32 threads, $1,699
Core i9-7940X: (3.1GHz, 4.4GHz burst) 14 cores/28 threads, $1,399
Core i9-7920X: (3.1GHz, 4.4GHz burst) 12 cores/24 threads, $1,199
Core i9-7900X: (3.3GHz, 4.5GHz burst) 10 cores/20 threads, $999 
Core i7: 
Core i7 7820X (3.6GHz, 4.5GHz burst), 8 cores/16 threads, $599
Core i7-7800X (3.5GHz, 4.0GHz burst), 6 cores/12 threads, $389
Core i7-7740X (4.3GHz, 4.5GHz burst), 4 cores/8 threads, $339  
Core i5:
Core i5-7640X (4.0GHz, 4.2GHz burst), 4 cores, 4 threads, $242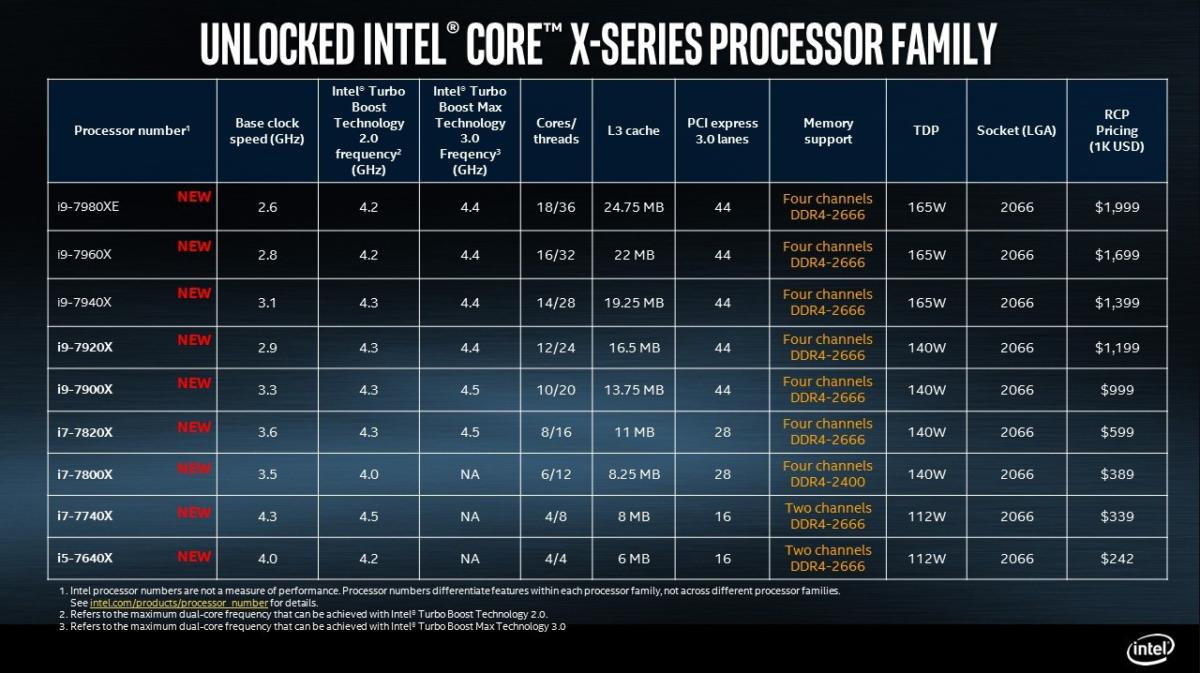 You were able to preorder the Core i7 X-series chips and the 10-core Core i9 7900X the week of June 20. The 12-core Core i9-7920X ships August 28 while the 14-, 16-, and 18-core Core i9 chips ship on September 25.
The new chips will consume 112W or 140W (depending on the chip), requiring a liquid-cooling solution. Intel has said there will be a 165W chip, too, but waited until early August to reveal it—or them, as it turns out. Intel will have three 165-watt chips: the i9-7980XE, the i9-7960X, and the i9-7940X.
More importantly, they'll all use a new Socket R4, a 2,066-pin LGA socket that will require a brand-new motherboard. Intel's Core i9 family is not backward-compatible with existing Skylake or Kaby Lake motherboards.
Frequently asked questions
What is Core i9?
On May 30 at Computex, Intel formally announced the Core i9 high-end chips for PC enthusiasts. At the high end, it's quite simple: The Core i9 family consists of what's known as the Skylake-X architecture, with processors that include 10, 12, 14, and 16 cores. 
From there, it becomes a bit complicated. For some reason, Intel decided that the 8-core and 6-core Skylake-X chips aren't worthy enough, so they carry the Core i7 name. They share some common architectural features with the "true" Core i9 chips, though, so we've included them. The same goes for a second family of chips, known as Kaby Lake-X—basically the same seventh-generation CPUs you've seen on laptops and desktops for more than a year, but that also connect to the same X299 chipset as the Skylake-X chips do. The two Kaby Lake-X chips will be quad-core only parts.
Colloquially, you may also see these chips referred to as the Skylake-X family, the X-series of chips, or by their code name, "Basin Falls." 
When can I get Core i9?
Preorders for the Core i7 X-series chips and the 10-core Core i9 7900X began the week of June 20. The 12-core Core i9-7920X launches Aug. 28 while the 14-, 16-, and 18-core Core i9 chips ship on Sept. 25.
Who should buy Core i9? 
As you might guess from the prices, these chips aren't for everyone. You don't remotely need 18 cores and 36 threads unless you're doing resource-intensive multitasking, such as video or gaming. 
How much will Core i9 cost? 
The least-expensive Core i9 chip will be the Core i5-7640X, at $242. The Core i7 chips will range from $339 to $599. The Core i9 chips will be priced from $999 to $1699. The most expensive will be the Extreme Edition (Core i9-7980XE) for $1,999.  
Where does Core i9 fit into the Intel Core family? 
Core i9 is Intel's fifth PC processor family, starting with the Core m and moving up through the traditional Core i3, i5, and i7 chips to Core i9. As the numerical sequencing suggests, Core i9 represents Intel's most prestigious chip family, offering the best performance at the highest price. 
It's not exactly clear what makes a chip a Core i9. The lowest-end Core i9-7900X, for example, shares the same amount of cores as the previous 10-core Core i7-6950X. Still, if you are looking to buy or build today and want the fastest Intel has to offer, Core i9 is probably the easiest way to tell.
How does Core i9 relate to Broadwell-E?
Core i9 succeeds Broadwell-E as Intel's supreme, enthusiast desktop chip family. 
At the top of the heap sits Core i9 Extreme Edition, part of the Core i9 family, but a supercharged subset of its own. Right now, it's just a single chip: the Core i9 Extreme Edition i9-7980XE. 
Will I need a new motherboard for Core i9?
Yes. All Core i9 CPUs will use a new Socket R4, a 2,066-pin LGA socket that will require a brand-new motherboard. Intel's Core i9 family is not backward-compatible with existing Skylake or Kaby Lake motherboards.
PCWorld's review
Although this is only one shoe to drop, Core i9 is finally here and it's a doozy. Faster and cheaper than Intel's previous 10-core chip, our review of the 10-core Core i9-7900X is ready. We recommend you read it before you plunk down your hard earned cash. In short, however, this is basically Intel's fastest consumer CPU to date.
Video coverage
The Full Nerd team discusses what the Core i9 could mean for you, especially with Threadripper also coming down the pike:
You can get a taste of Core i9's innovations in this video. Stay tuned for our review video after we have a chance to test the chip.
Here's Intel's PC chip chief, Gregory Bryant, announcing the Core i9 preorders:
New features: Why you'll want to buy a Core i9
In addition to just the raw performance, the Core i9 family includes something new.
In its earlier Broadwell-E chips, Intel included something called Turbo Boost Max Technology 3.0, which identified one "best core" among all of the available cores on a chip. If and when the chip needed to be boosted, that best core would be the one selected to be dynamically overclocked. The new feature within most of the Core i9 chips is what Intel calls an updated Intel Turbo Boost Max Technology 3.0,  where the chip identifies not just one, but two cores as the best cores.
While the Core i9 can turn this feature on when needed, it will be used to best advantage when playing games with multiple threads, or performing simultaneous tasks like game streaming and music playback. This feature is not available in the lower-end Core i9 chips, though—only from the Core i7 7820X (8 cores, 16 threads), on up through the 7900X, 7920X, 7940X, 7960X, and 7980XE.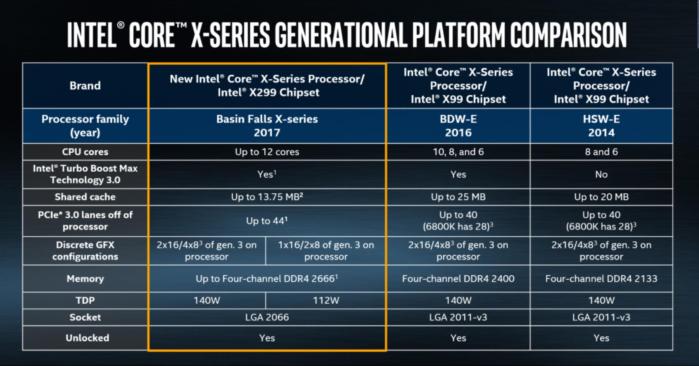 Not everything new about Core i9 is found within the chip itself. The related X299 chipset provides up to 24 PCI Express 3.0 lanes vs. the 8 PCIe lanes of Broadwell-E's X99 chipset—important if you want to power your Core i9 system with multiple graphics cards. Additional PCIe lanes for high-speed PCIe NVMe drives can also be plumbed directly into the PCIe coming from the CPU itself. On CPUs with 10 cores and up, a full 44 lanes of PCIe 3.0 lanes are available for use.
All this enables a range of options: Do you want to run four x8 graphics cards in a single Intel-powered PC? If so, you'll want a Core i9 system.
The X299 chipset supports up to eight SATA 3.0 ports and 10 USB 3.0 ports. Finally, owning a Core i9 with an X299 motherboard means you'll have access to Optane, Intel's caching drive technology that can accelerate frequently used data.
Overclocking options
Intel's Core i9 is tailor-made for overclocking, as the entire family comes unlocked. Intel doesn't recommend that you cool a Core i9 chip with air alone, though, so a straight fan-based solution is out. Instead, Intel recommends its own TS13X liquid-cooling solution, which will be sold separately. You can also buy your own third-party cooling solutions, as long as it's rated for the TS13X.
The TS13X uses a solution of propylene glycol to pump the heat to a 73.84-CFM fan that generates between 21 and 35 dBA, rotating between 800rpm and 2,200rpm. The TS13X will cost from $85 to $100.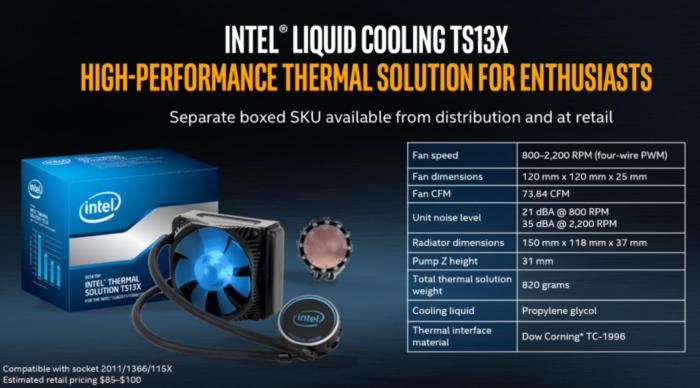 Intel will maintain support for per-core overclocking and per-core voltage adjustments, using its own Intel Extreme Tuning Utility (XTU). New controllable features for overclocking include AVX 512 ratio offsets, trim voltage control of the memory control, and PEG/DMI overclocking. 
Intel will also offer what it calls its "performance tuning protection plan," a sort of insurance policy for overclockers. It's a one-strike policy: The company will let you fry your chip once, just once, and send you a replacement. 
Intel X299 chipset: What's included
Right now, there's but a single chipset to accompany the Core i9: the X299. As mentioned above, the new chipset uses Socket R4, a 2,066-pin LGA socket that will require a brand-new motherboard. Intel's Core i9 family is not backward-compatible with existing Skylake or Kaby Lake motherboards.
With the exception of the two Kaby Lake-based quad-core chips, the X299 chipset also provides the following features:
Intel's improved Turbo Boost Max Technology 3.0, on the Core i7-7820X and above
Up to 44 lanes of PCI Express (enabling two x16 or four x8 graphics cards)
Quad-channel DDR4 2666 memory
140W support
Some of Intel's cheaper chips can only take advantage of a subset of these, though. The Core i7-7800X (6 cores, 12 threads) and Core i7-7820X (8 cores, 16 threads) rest on an intermediary rung where only 28 PCIe lanes total are available.
For the two quad-core Kaby Lake based chips (the Core i5-7640X and Core i7-7740X) , the X299 provides a slightly different feature set:
No Turbo Boost Max Technology 3.0
16 PCI Express lanes (for one x16 or two x8 cards)
Two-channel DDR4 2666
112W support
All of the various X299 chipset implementations support up to eight SATA 3.0 ports and 10 USB 3.0 ports. 
There are two other under-the-hood improvements. By moving to Intel's latest DMI 3.0 interface between the Core i9 and the X299, bandwidth is essentially doubled, allowing for the extra ports and PCIe lanes. Intel also moved to a different cache scheme that puts a smaller amount of cache closer to each individual core. You probably won't see any overt signs of either in your day-to-day compute tasks, but those upgrades may show up in the benchmarks.
Core i9/X299 motherboards
Remember that for now, every Core i9 motherboard you'll buy is based on the Socket R4, a 2,066-pin LGA socket that's incompatible with some of the older Core i5 and Core i7 microprocessors. (The Core i5-7640X, Core i7-7740X, Core i7-7800X, and Core i7-7820X all use the new 2,066-pin socket, too.) All of the new motherboards are based on Intel's X299 chipset, the only chipset for the Intel Core i9 right now.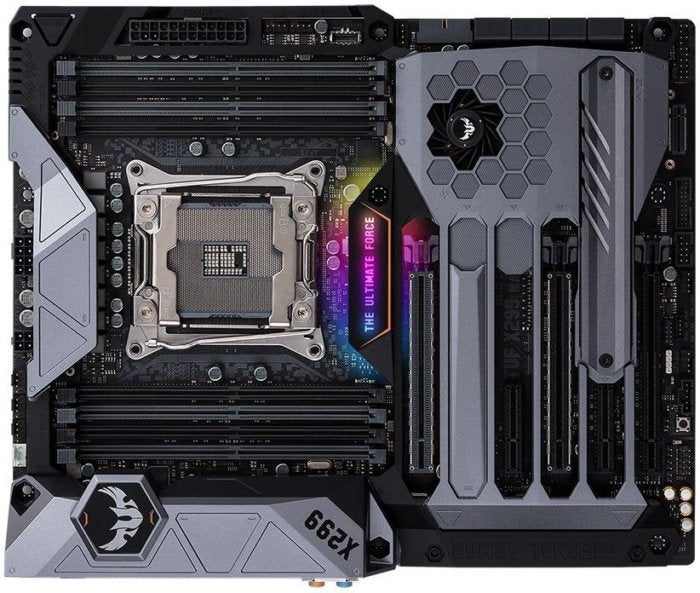 We have some details on the Core i9 motherboards that have been announced, from Asus, MSI, Gigabyte, ASRock, and EVGA. It appears that prices range from $300 to $400 or so. Intel said in August that more than 200 X200 motherboards are sitting on store shelves.
Some of the brands and families include:
The competition: AMD's Threadripper
For much of the last decade, Intel dominated high-end PC computing, and rival AMD struggled to keep up. That's changing. AMD debuted its Ryzen processor to global acclaim, though the company's performance claims came under some scrutiny. More recently, the company came out with its own version of the Core i9: Threadripper.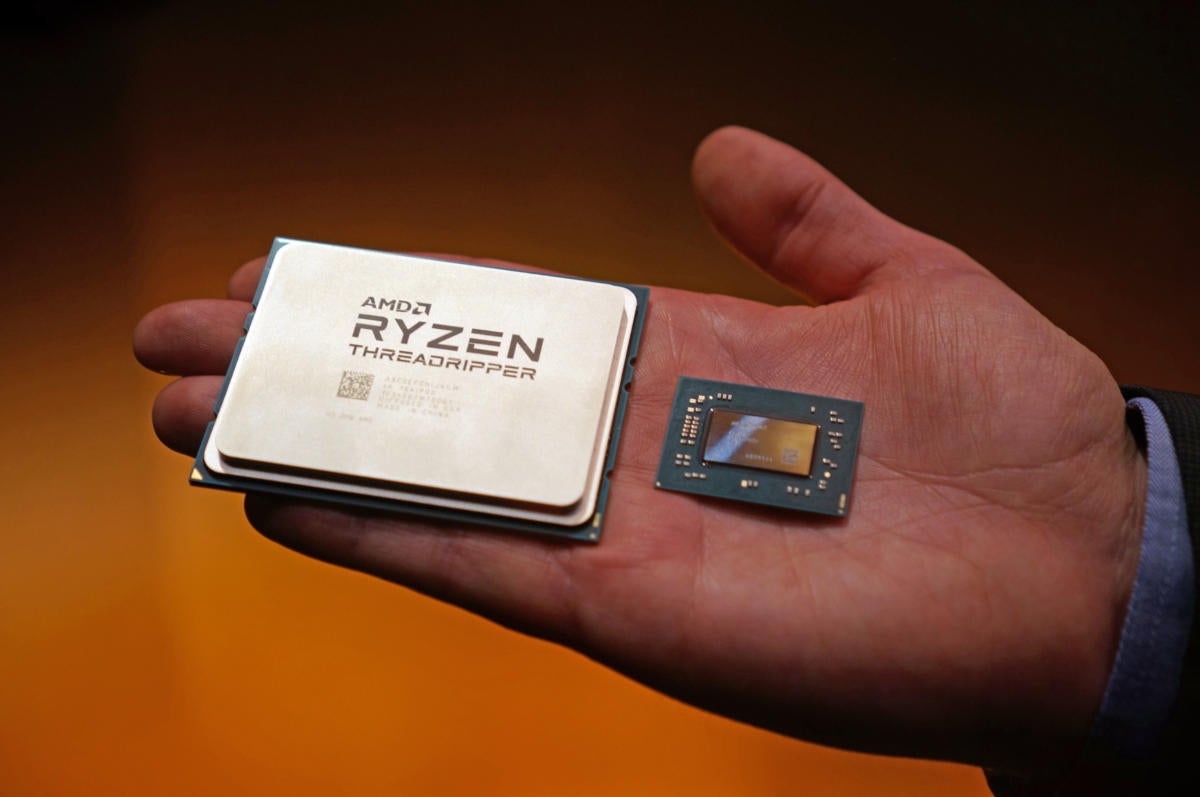 Right now, Threadripper lags slightly behind Core i9 in core count: 16 cores, 32 threads, compared to the Core i9-7980XL's 18 cores and 36 threads. AMD's traditional lever, though, is price. While Intel is asking enthusiasts to pay through the nose for Core i9 chips, AMD's Threadripper comes at an enormous discount. That's an enormous consideration when buying a chip like the Core i9: What's its value proposition, and is it better than the competition?
We'll keep you updated as more Core i9 news comes out.
Updated on August 7 to include Intel's latest details on Core i9 clock speeds.