Va-Va-Va-Vaio! Sony's Sexy Subnote
Ooh and ah now, but wait a few months to let competition run its course.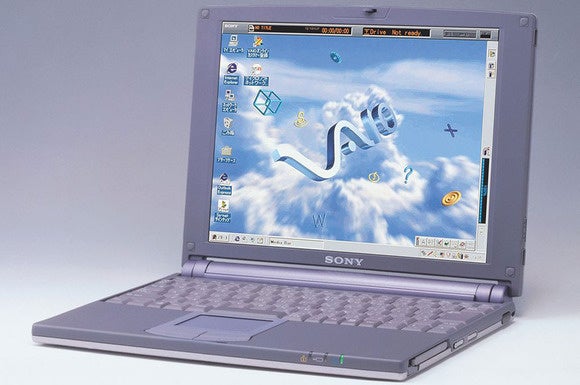 At a Glance
Sony Vaio 505GX

PCWorld Rating
From all the oohing and ahing people are doing over the Sony Vaio 505GX, you'd think it was a newborn child instead of a first-of-its-kind subnotebook. The 505GX's ultrathin and light design is indeed appealing, but its US$2699 price should give you pause.
When you're done admiring the system's sleek profile (less than an inch thick) and chic silver-and-purple decor, note the 10-inch-wide keyboard—the unit's most important breakthrough feature. The cramped 9-inch keyboards on most subnotebooks, including the Hitachi VisionBook Traveler 3000 and the Mitsubishi Amity CN, make typing on them a painstaking chore. The extra inch on the 505GX creates a world of difference, giving you just enough room for touch-typing. Yet at 4.3 pounds (including floppy drive and AC adapter), the 505GX is a mere 3 ounces heavier than the Traveler or the Amity.
The Vaio 505GX is configured with a Pentium MMX-266 CPU (slow for a standard notebook but fast for a subnote), a 256K-byte secondary cache, 32M bytes of RAM, a 10.4-inch active-matrix screen, a 2.1G-byte hard drive, an internal 56K-bit-per-second K56flex modem, and Windows 98. (Its sibling, the 505G, comes with a PMMX-200 CPU for $1999.)
The 505GX won't win any performance championships, but our shipping unit moved through the business applications in our PC WorldBench 98 suite at a decent clip and didn't feel much slower than a conventional notebook. Although we haven't tested any other PMMX-266-based notebook stocked with a modest 256K-byte secondary cache, the 505GX's WorldBench 98 score of 103 fell about 13 percent short of the average for similarly configured notebooks that have a 512K-byte secondary cache—no surprise there. The system's battery lasted for 4.7 hours in our tests, an adequate figure but hardly stellar.
Sony's 505 series has redefined subnotebooks, but for a high price. And the optional CD-ROM drive you'll need in order to load most software costs an additional $299. For roughly the same overall cost, you could get a fast, fully loaded Pentium II-266 notebook with a 13.3-inch screen. But as other vendors follow Sony's lead (Sharp's Actius A100 Ultra-Light, due next quarter, has a similar physical profile), the price of these ultrathin subnotebooks should drop. Our advice: Ooh and ah now, but wait a few months to let competition run its course.
This story, "Va-Va-Va-Vaio! Sony's Sexy Subnote" was originally published by TechHive.
At a Glance
Sony Vaio 505GX

PCWorld Rating

Innovative subnotebook will be even more attractive once the price falls.

Pros

Super slim and light
Keyboard large enough for touch typing

Cons

High price
CD-ROM drive not included in base configuration
Shop Tech Products at Amazon