Amazon Cloud Drive: 7 Key Facts
Amazon.com beat Google and Apple to punch this week with the unveiling of its hosted consumer-storage service, Amazon Cloud Drive, and Web-based music-player, Cloud Player.
Free Android Apps: 11 Great Utilities for Your Phone
You can never have too many Android apps ... especially when they're free. Here are 11 downloads that deserve a spot on your device, each designed to add functionality to your Google phone and enhance your overall Android experience.
Verizon HTC Thunderbolt: Eight Key Features and Facts
U.S. wireless carrier Verizon Tuesday confirmed that its much anticipated Android smartphone, the HTC Thunderbolt, which was announced back in January at the 2011 Consumer Electronics Show (BES), will be released this week, on March 17, for $249.99 with a new service contract.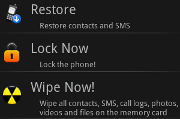 15 Must-Have BlackBerry Apps for Newbies
Which BlackBerry applications should every new RIM smartphone owner download immediately? CIO.com's BlackBerry expert Al Sacco lists the best choices -- and all but one of these mobile apps are free.
Six Reasons Not to Buy the Verizon iPhone 4
Today is the big day; the Apple iPhone is finally available in the United States through a wireless carrier other than AT&T. Verizon Wireless's iPhone 4 smartphone can now be purchased in Apple Stores, Best Buys, Walmarts, and Verizon Wireless retail locations...while supplies last, of course.
Featured Brands
Deals & Coupons »

Upgrade Your Business »