Google came out on top of Greenpeace's Cool IT Leaderboard for overall green practices.
One of the worst Android applications in the market, this "uplifting" app induces nausea rather than inspiration.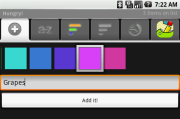 Hungry is a nicely designed, easy-to-use grocery-shopping app with a great deal of potential.
Evernote mostly succeeds as a note-taking app, but performs best when used in conjunction with the desktop app and Web browser plug-in.
FxCamera is an entertaining app; however, it cannot compete with similar photo apps that include more advanced filters and tools.
If you have an Android phone and need a Wikipedia browsing app, then Wapedia by Taptu may be the right choice.
This app is difficult to decipher, oddly organized, and user-unfriendly.
Straightforward tool reports on traffic conditions and road obstructions.
Location-based app helps you find nearby attractions and chain stores.