We explain four ways to increase the performance of everything attached to your work or home network.
Hardware Speed Boosts for Your PC
Which hardware upgrades do the most cost-effective job of turbocharging your PC? We ran tests on various combinations of upgrades to find out.
Panda Internet Security is generally effective at protection, though its blocking of new malware wasn't top notch and it slows Windows more than we'd like.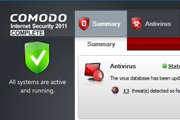 Eset Smart Security 4.2 is speedy; unfortunately, the suite struggled at detecting and removing malware.
McAfee Internet Security 2011 put up fairly mediocre scores in malware detection tests, though it can be had at a reasonable price.
Battle of the Security Superpowers
We tested the 10 top security packages to see which ones can protect your data without overburdening your PC. Here are the exclusive rankings from the PCWorld Labs.