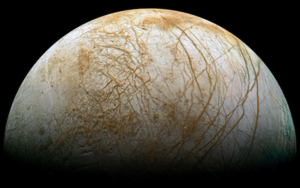 Jupiter's moon Europa shows signs of salt water beneath its icy surface
Astronomers have believed for a number of years that Europa, one of Jupiter's most well known moons, might have a liquid ocean that could harbor life beneath its icy surface. We still don't know for sure, but a new finding shows that Euopra's oceans may be a lot like those on Earth.

Separate your Oreo cookies like a pro with this machine
Like a lot of people, we at GeekTech are kept awake at nights worrying about whether or not our Oreo-separating needs are ever going to be taken seriously. Enter Minnesotan toy scientists Barry Kudrowitz and Bill Fienup.