Mass Effect 3 is a soaring space opera of a game, and there's plenty of quality content to keep you occupied for days. However, its enjoyment value for those who haven't played through the rest of the trilogy is questionable and it's not without its faults.
The second Final Fantasy game to get a direct sequel, XIII-2 continues right where the end of the first game left off. It's an epic, top quality RPG that showcases what Square-Enix does best and ameliorates a lot of problems that the last game had. Unfortunately, it adds a few new ones all its own.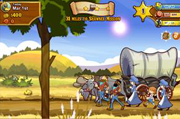 Want to play god? Or run a tribe? Or even, heck, an airport? Then GamePro's list of the best sim games on Facebook is just what you need to quench your thirst for power.