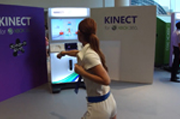 World Tech Update, August 4, 2011
Sony promises a ship date for its PlayStation Vita, an airline offers in-flight movies and TV shows over Wi-Fi, Google Chrome intros two noteworthy upgrades and more.
Toyota's High-Tech Realistic Driving Simulator
It looks like something out of science fiction...the world's most advanced driving simulator, designed to replicate the sensations of sitting behind the wheel of a car. It's part of Toyota's research into reducing road accidents.
China's Tianhe-1 Supercomputer Boots Up
One of China's fastest supercomputers is now running in Hunan. The Tianhe-1 has a theoretical peak speed of 1.1 petaflops, which means it can perform up to 1,100 trillion operations per second.