White House threatens to veto CISPA ahead of vote
The White House has threatened to veto the controversial Cyber Intelligence Sharing and Protection Act (CISPA) in its present form, citing concerns that the bill does not adequately prevent sharing of irrelevant personal information.
Google discloses tech specs and developer API for Glass
The Google Glass wearable computer will have a high-resolution display equivalent of a 25-inch high-definition screen from eight feet away, and will capture 5-megapixels images and video at a resolution of 720p, according to technical specs disclosed on Monday.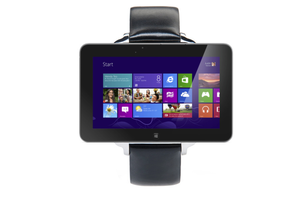 Infosys' profit drops in 'challenging' market
Indian outsourcer Infosys saw its profit drop even as revenue grew in the first quarter, as margins were hit by staff salary increases, and investments and acquisitions by the company in new technology areas and markets.
Judge says Apple, Motorola pursuing business strategy in court
A court in Florida said that Apple and Motorola Mobility have no interest in quickly and efficiently resolving a patent infringement lawsuit, but are instead using their litigations around the world as "a business strategy that appears to have no end."
Facebook targets ads based on actual user purchases
Facebook has launched a program that will target advertisements based on what users have actually purchased, but said that advertisers will not have direct access to information that identifies the user.
Australia charges alleged Anonymous member
Australian police have charged an unidentified juvenile, who is suspected to be a member of the hacker group Anonymous, on a number of counts related to unauthorized access to computer data.
Facebook dispute over 'Timeline' trademark to go to jury trial
A trademark infringement lawsuit against Facebook over its use of 'timeline' will go to trial before a jury, after a judge ruled that the company had failed to show that the trademark was generic or descriptive, or Facebook's use of it amounted to fair use.