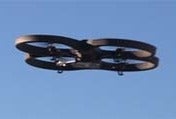 AR Drone 2 Flies High, And Records in HD Too
Parrot's updated AR Drone 2 Helicopter is now sturdier and records its world in HD video. If you dream of flying or snooping on neighbors--you can do so (at your own risk) through the helicopter's tablet, iOS, or Android phone controls.
Microsoft, Nokia Recap, And Snookie at CES?
A recap of Bill Gates' auto-tuned presence at Microsoft's keynote, to Nokia on Ultrabooks, and the latest AR Drone. We also get a preview of Ford's concept car... And, Snookie!
CES: Will Bill Gates Speak at the Final Microsoft Keynote?
Here is a preview of CES 2012 as it kicks off this week in Las Vegas. We're expecting to hear from all the major vendors, including Microsoft, whose appearance will be its last. Will we see Bill Gates speak at the keynote? Also: CES is calling 2012 the Year of the Interface and explains why.
Featured Brands
Technology that empowers you... »
Deals & Coupons »