Macworld | iWorld: HyperJuice Plug External Battery
The HyperJuice Plug is a $120 portable charger that can be used to recharge you phone, tablet, or USB device in a pinch. The portable device is encased in an aluminum enclosure and available from hypershop.com.
Macworld | iWorld: Game Your Video
App maker Global Delight wants to make mobile video editing less of a chore and more of a game. That's the idea behind Game Your Video, an iPhone video-editing app introduced at this week's Macworld | iWorld.
Best Tablet at CES: Toshiba's Excite X10
The thinnest and lightest tablet at CES features a Texas Instruments 1.2-GHz OMAP 4430 multicore processor, 1GB of memory, and a 1280-by-800 resolution IPS display.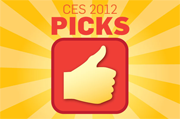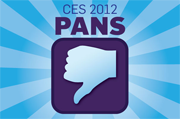 Lethal Protection Life-Phorm Pro Demo At CES 2012
The Life-Phorm Pro is a positioning device for smartphones, tablets and cameras that can change shape and cling to many different surfaces. Check out our hands-on demo from the show floor of CES 2012.
Best Camera at CES: Canon's PowerShot G1 X
Canon's PowerShot G1 X features a 1.5-inch sensor that's almost as large as those on higher-end (and more expensive) DSLRs. The result is great low-light perfomance and a fantastic picture.
Best TV at CES: Sony's 55-Inch Crystal LED HDTV
Sony's 55-Inch Crystal LED HDTV has a picture that amazed us. Unlike standard LCD televisions that use LEDs as backlighting, the Crystal LED display uses tiny LED lights and was one of our favorite TVs at CES 2012. Unfortunately, it currently is a prototype.