The Latest and Best in Car Tech
Automakers are appealing to car buyers with new in-vehicle technology like LTE, digital rearview mirrors, useful apps, and advanced telematics systems.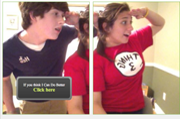 Online Dating's Strangest Sites
"There's someone for everyone, and for everyone there's someone," says Lou Reed. Turns out he's right--and there's probably a specialty dating site for just about everyone, too, as we found out.