Just a few short months ago, back in June, Google executive Andy Rubin trumpeted the fact that more than 900,000 Android devices were being activated every day.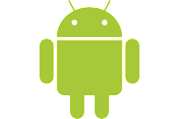 Roughly the same time last year--in June 2011--it was just 500,000 new units being activated daily. In 2010, a year or so earlier, it was more like 100,000 activations each day.
On Wednesday, however, Google Executive Chairman Eric Schmidt announced at Motorola's "On Display" event in New York that the platform has now reached a full 1.3 million new activations each day, according to a TechCrunch report, thus continuing steadily on its dramatic upward climb.
Read more »
13