Google on Tuesday released version 21 of its popular Chrome browser, complete with several new features and a raft of security fixes.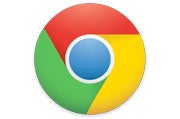 Perhaps most notable among the browser's new features is an API for high-quality video and audio communication.
Known as the getUserMedia API, the new technology "lets you grant Web apps access to your camera and microphone without a plug-in," explained Shijing Xian, a Google software engineer, in a Tuesday post on the Google Chrome Blog.
Read more »
9