Google's Chrome browser now claims 310 million active users, the company announced at its I/O developer's conference this week, nearly doubling the number it had at this time last year.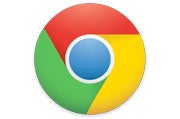 In the upcoming months, however, that's likely to increase even faster thanks to the browser's official arrival on Android and iOS.
Not only did Google roll out the first stable version its popular browser for the Android mobile platform this week--taking it out of beta at last--but on Thursday it unveiled a version for the iPhone and iPad as well.
Read more »
1