Between its use of SPDY by default and speed gains through Mozilla's "Project Snappy," Firefox 13 has been generating excitement for some time already. Now, the final version of the software is here at last.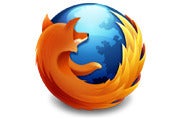 Mozilla on Tuesday launched this latest version of its popular free and open source browser, which comes packed with numerous significant new features that promise to make life better for users in myriad ways.
If you already use Firefox, this new update will likely be on its way to you automatically through Mozilla's now nearly silent update process, which debuted in the Windows version of Firefox 12.
Read more »
24