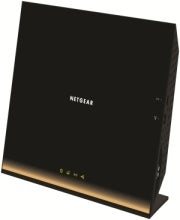 Netgear's first 802.11ac router, the R6300, will go on sale next week for $200, the company announced at a news conference yesterday. Touting the benefits of the next-gen Wi-Fi standard, the company also announced two more 802.11ac products: a lower-end router and a USB adapter for notebooks, both due this summer.
Netgear officials continue to maintain that the company is the first to bring 802.11ac products to market, even though Buffalo Technology's first 802.11ac router and an 802.11ac media bridge are already on sale on Frys.com and Newegg.com. A Netgear official at yesterday's press event said he had ordered a Buffalo unit from Newgg in order to verify actual availability, but that he had not yet received it.
While the 802.11ac standard uses the same unlicensed frequency spectrum as routers based on the older 802.11g (2.4GHz), 802.11a (5GHz), and 802.11n (2.4- and 5GHz) standards, 802.11ac routers are capable of packing three times more data into each spatial stream. Where an 802.11n router can stream data at speeds of up to 150 megabits per second (Mb/s) on each antenna, an 802.11ac router can deliver data at speeds of up to 450 Mb/s on each antenna.
Read more »
1