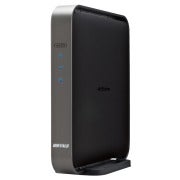 Buffalo Technology says its first 802.11ac AirStation products--a router and a wireless media bridge--are on sale now at Fry's, Frys.com and Newegg.com, making Buffalo the first to market with next-generation gigabit Wi-Fi gear.
At this writing, I was not able to verify the claim (this blog entry was written based on an embargoed news release). But if true, Buffalo will have snuck past Netgear, which last month said its R6300 router would be the first based on the new standard. Netgear said the R6300 would go on sale in May, but as of Sunday night it did not turn up in a Google Shopping search, or in searches of a couple of Netgear's major retail partners. (I'll update these results as needed.) Update: I've since found the Buffalo router and media bridge on Newegg.com.
Buffalo's initial 802.11ac offerings are the AirStation AC1300 / N900 Gigabit Dual Band Wireless Router (WZR-D1800H) and the AirStation AC1300 / N450 4-Port Gigabit Dual Band Wireless Ethernet Bridge (WLI-H4-D1300), each priced at $180.
Read more »
4