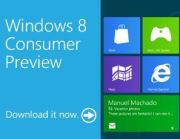 Amid the introduction of so many tablets recently, one thing has been clear: There's room for a viable competitor to Apple. Android tablets are still not crashing Apple's iPad party, as evidenced by Apple's runaway sales.
Samsung is one of the top sellers of Android tablets so far, yet even so, an executive at Mobile World Congress admitted the company hadn't been very successful. But where Android tablets have struggled to gain traction, Windows 8 tablets are generating a lot of interest among manufacturers, consumers, and business users alike.
The Wednesday release of the Windows 8 Consumer Preview may serve to strengthen the case for Windows 8 tablets. But as with everything about the upcoming OS, the success of Windows 8 tablets is predicated on the idea that users buy-in to the dramatic Windows redesign.
Read more »
6