Being bedridden for a couple days gives you a new appreciation for old fixations--in my case, game shows. Somewhere between shouting answers at the boneheaded contestants and heckling the smarmy know-it-all hosts, I realized I needed a bigger piece of the action. I needed to play--heck, why not be the boss and come up with some of my own game-show-caliber questions? Are you ready for this week's Casual Friday column? Come on down!
Let's try something a little different this week. (I'm blaming the cough medicine.) Instead of making you read through my whole column first--of course, I'm not about to stop you if you do--I'm giving you a link, up front. Play my quick eight-question Casual Friday Nerd Quiz.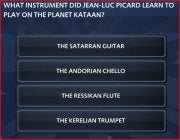 How did you score? (Sorry, no prizes.) Here's the deal: Buzz Quiz TV came out for the PlayStation 3 this week. It does its best to mimic a game show with four cheesy plastic buzzers, a bunch of trivia questions, and an uncomfortably extra-Velveeta-y host. (But aren't all game-show hosts like that?) Now, I know that a bunch of video games have tried to put players on the stage seeking big imaginary money and big make-believe prizes--and this one is no different. The decent mix of options will have you going solo, competing against four friends, or engaging in a "Sofa vs. Sofa" brain bowl over the Internet.
Read more »
1