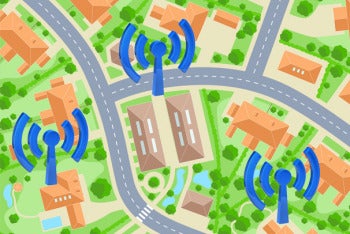 When in the course of human events it becomes necessary for consumers to declare their independence from large telcos, it's reassuring to know that wireless Internet service providers (WISP) are one possible option. Wireless ISP's (WISP) are usually located in rural areas not served by any other Internet service, but some urban WISP's have gained a foothold. One of these is DC Access, LLC (www.dcaccess.net) which serves sections of the Capitol Hill and Adams Morgan neighborhoods in the District of Columbia. DC Access provides a "fixed wireless" Internet service. You'll pay about the same as you would for Internet service from the big telcos (Verizon, Comcast, and so on), but you'll be treated a whole lot better when you call for support. Any small business that doesn't provide outstanding customer service is a small business on its way to being a former small business.
From all reports I've heard, the quality of customer service and tech support from DC Access is very high. Reviews on Yelp start out at the effusive level and go up from there.
My own experience with other wireless internet service providers has been iffy. I tried Clear last year and found that you needed to line up the Clear modem in just the right direction, and even then your Internet signal could be dropped for no reason. I wanted to like the Clear service--as an alternative to the big telephone companies, but I cannot currently recommend it.
Read more »
3