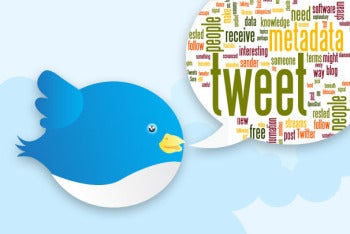 Chris Lehmann is the principal of the Science Leadership Academy in Philadelphia, Pennsylvania. I love reading his education-related tweets because of his many interesting ideas, insights and observations. There's another side to Chris, though. Chris is a rabid sports fan, and he'll unleash a torrent of tweets during certain sporting events. I can appreciate his sports fervor, but to me those sports tweets are more noise rather than signal. I'd love to be able to tell Twitter, "give me all of Chris Lehmann's education-related tweets and none of his sports tweets." (I also want Chris to continue tweeting his sports tweets, because those are an essential part of who he is.)
What I'm talking about here is metadata--data about data. I'd love for every tweet that's sent out to be categorized in some way by the tweeter. Tweets need metadata in the same way that books need a title. Is this tweet about an interesting new blog post by the sender of the tweet? Or about an interesting blog post by someone other than the sender of the tweet? A tweet about a useful free resource for educators? A new explanatory screencast about open-source software? A tweet about an inspiring video on YouTube? A tweet that'll make me chuckle?
Sure, it takes a bit of extra effort for people to add metadata to their tweets, but the result is well worth it. More people would receive more of the information they're interested in – and less of the information they're not interested in. In a knowledge economy, that's a big deal, for time is more valuable than money. When more people receive more signal and less noise, knowledge is created, more becomes possible – and thoughts dance beneath the diamond sky with one hand waving free.
Read more »
2