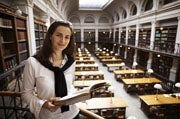 Coworking is a modern work innovation where people in various creative professions share a common work space, synergizing their talents and making best use of fixed-cost resources. Here is a portrait of how coworking might develop in public library spaces as public libraries transform themselves in coming years. Architects, take notice.
Do you work as a computer programmer, writer, editor, animator, or graphic designer? Would you like a free desk to do work at your public library? What's the catch? The catch is that you need to contribute 10 or 20 percent of your time to serving the public in some way. You can either set aside time to answering the public's questions or teach classes or work on public-oriented digital projects of various kinds. You might also mentor a youth or an adult. You might want to cowork at the public library just three days per week, in which case you need to contribute just 10 percent of your coworking time. If you cowork at the public library five days a week, you would need to contribute 20 percent of your time.
Coworking at your public library would bring several additional benefits to the coworkers. They would have discounted access to the digital production services of the library. Digital production would include not only video production, but also animation, photography, graphic design, editing, and computer programming services.
Read more »
4