Have you ever gone by a house where the TV was on at night, and noticed the bluish glow emanating from the screen? Or woken up early and switched on your monitor (or smartphone) to be blinded by a burst of bright white light? With the free f.lux, this doesn't have to happen.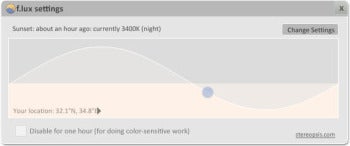 It turns out monitor brightness isn't the only thing to blame when this happens. Color temperature, measured in units called kelvin, has a lot to do with it. The simplest way to explain color temperature is in terms of tint: You know how the color white sometimes seems "warm" (a bit reddish) and sometimes "cool" (bluish)? That's color temperature at work.
With their typical cool tint, computer monitors look great during daytime hours. But once the sun sets, monitor screens look much better if their color temperature is adjusted accordingly. And that's what f.lux does.
Read more »
4