Smith Micro touts MotionArtist (free beta) as the answer for graphic novel and comic creators who want to create motion/interactive comics without coding. You upload your artwork from any of a number of common file types and export the animation in video formats that play well in HTML and YouTube. The latter is a boon for creators uploading motion comics on their own sites without the use of Flash or After Effects.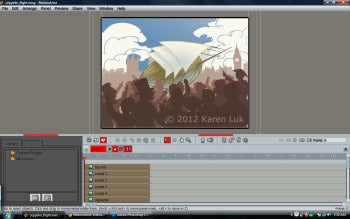 Importing original comic pages into MotionArtist from Adobe Photoshop was simple. PSD files come in layers, each with its own original layer name in the scene or flattened as a composite. Each layer is loaded in the time line with a default 30 frames per second. Vendor Smith Micro states that MotionArtist will also accept the following formats: AI (Adobe Illustrator), JPEG, PNG, and raw TIFF. Animators will recognize the timeline and some animation tools in the toolbar, but there are no drawing tools like those in Flash and Anime Studio. The emphasis is on rendering existing pages for video playback.
When MotionArtist opens up, the comic artist sees the familiar industry-standard 11-bv-17-inch artboard and a single panel with camera view attached. MotionArtist has two modes, Presentation and Advanced. Basic understanding of animation timing is useful but not required, given the default settings in Presentation mode. MotionArtist users will switch back and forth between the modes to refine camera movement and panel-to-panel focus. Having little animation experience, I found it tricky to align my own camera and panel paths properly for rendering. It's faster to import a PSD file, let Presentation mode create a camera path between the panels, and then edit it. The caveat is where the camera path starts and ends. In a few of my imported files with layers, the camera render would start on the last speech bubble. Adjustments in the time line and paths fixed this.
Read more »
1