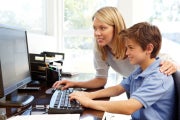 Kids are drawn to the Internet like moths to a flame. Right now, few online attractions burn as brightly as Facebook and Twitter. It's not uncommon for kids as young as 8 and 9 to have their own Facebook pages, and any kid with a smartphone or tablet (let alone access to a computer) can tweet up a storm.
Social media sites like these are great for building friendships, sharing photos, and keeping in touch, but there's a risk factor involved as well. Just as in school or on the playground, a few bad apples can "spoil the barrel" for everyone.
Indeed, kids on social networks often face harassment, threats, bullying, and unwelcome communication from strangers. Imagine a scenario, for example, in which a schoolmate uses Facebook or Twitter to spread a rumor about your child. This isn't just a whisper that gets passed from ear to ear. It's a shout that's instantly seen and heard by all.
Read more »
1