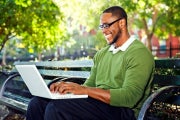 What's the only thing better than a free Wi-Fi hotspot? Free coffee to go with it, of course. Alas, free, all-you-can-drink java is pretty rare, but free public Wi-Fi networks are easy to come by. You'll find them in coffee shops, airports, food courts, and libraries, among other places.
But are they safe? As a matter of fact, no. An open network is, by definition, open, meaning hackers can more easily weasel into your system and steal your data — perhaps even your identity. Does that mean you should steer clear of your local Starbucks and other Wi-Fi-enhanced hangouts? Heck, no.
It simply means you should take a few precautions. With the right tools and by following five simple ground rules, you can keep your laptop secure on any network — and in any location.
Read more »