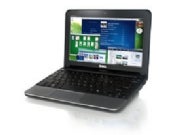 Thinking about picking up one of those Dell Inspiron Mini 10 netbooks? Good news! The company has announced that the product line has been refreshed to include the new Intel Atom N450 processor (the newly announced Atom that previously went under the code name Pineview). The N450 clocks in at 1.66 GHz and incorporates a new integrated graphics processor.
The new CPU promises better performance and battery life - Dell claims about 9 1/2 hours using a 6-cell battery. You can further get the new Mini 10 with a standard (1024x600) or high res (1366x768) display, an optional TV tuner, optional mobile broadband and GPS, and a 160GB or 250GB hard drive. One disappointing note: it looks like the systems will still be limited to 1GB of DDR2-800 RAM.
The new integrated graphics processor may be a step up from the one Intel bundled with its previous netbook platform, but it's still not powerful enough to run most 3D games and it's lacking in video decoding capabilities. Dell will offer an optional Broadcom Crystal HD decoder option to enable smooth video playback, so you can watch those HD YouTube and Hulu videos without stuttering.
Read more »
3