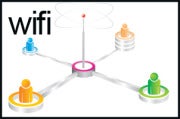 For a long time, Wi-Fi basically meant connecting laptops to the network. Now cellular phones, tablets, netbooks, printers, hard drives, and projectors are Wi-Fi enabled. This can drive demand to expand coverage or increase speeds on your network.
Wireless access points (APs) or wireless routers have evolved substantially in the last few years, bringing newer, higher-speed network protocols as well as improved security.
The basic wireless network standard is 802.11, with variations such as a, b, g, and n. Some vendors use multiple channels to allow for a multiplexed connection, theoretically enabling three channels simultaneously to triple the base speed. You'll see numbers quoted from 22Mbps all the way to 600Mbps or higher. In many cases, though, speed drops dramatically with signal strength, and better coverage can provide more user satisfaction than higher but intermittent speeds.
Read more »
1