One crucial step in implementing teleworking is to ensure that groups of remote users engaging in the same project can easily work together. Adopting a collaboration method that requires 48 hours' notice to create a teleconference or that demands administrator intervention to create a new document tree will stifle productivity and, in all likelihood, cause users to circumvent the system.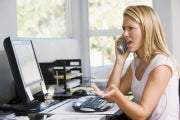 Avoiding this undesirable outcome is not really a function of choosing the right software, since most collaboration products--Google Docs, HyperOffice, MindJet, and SharePoint, to name a few--let users easily set up conferences, shared folders, and so forth. It's more a function of how you set up and document your company's procedures, which users you grant administrative rights to, and how much control your IT department exerts over the process.
If the process is too rigid, the ready availability of free, cloud-based alternatives will encourage users to make an end run around the obstruction, which can lead to a much greater loss of control than would have resulted from allowing users to make their own changes in the original software.
Read more »
1