The code was released to the public for a new social network designed to deliver the benefits of Facebook without the privacy concerns. The project--called Diaspora--also has potential as a tool for businesses to create their own social networks, but its value depends on how businesses intend to use social networking.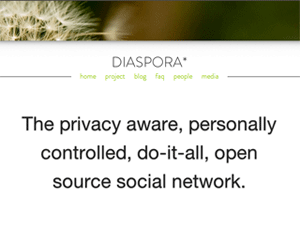 It is little secret that Facebook is often the subject of privacy concerns. Every time Facebook introduces a new feature, or updates the functionality it seems to share information in new and nefarious ways that users feel they have little control over. Diaspora was born from that controversy with the tagline, "The privacy aware, personally controlled, do-it-all, open source social network."
The originators of Diaspora feel they have taken the project as far as they can, stating in a blog post, "We began the summer a list of technologies, and a few bold claims and the goal to make an intrinsically more private social network. The overwhelming response that we elicited made us realize that technology woudn't be enough. Even the most powerful, granular set of dropdowns and checkboxes will never give people control over where their content is going, let alone give them ownership of their digital self."
Read more »
2