Is HP's purchase of Palm a good deal or a bad one? How will it change the smartphone industry? The world wants to know and it's up to you to tell them. Here you'll find the issues and some analysis, but the final judgment is yours. You be the analyst.
When considering a merger/acquisition, I look at the number of things, but start with the Golden Rule of Tech: Mergers rarely accomplish what the buyer hopes in terms of opening new markets or grabbing share in existing ones. The bigger the dollars involved, the more reason to be suspect.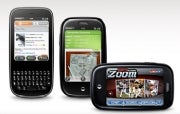 Thus, every merger starts from behind, and this one is no different. The bias is toward cynicism, not sweetness-and-light. History is broadly against Palm and HP.
Competitors
Speaking of Research In Motion, this where everyone that wants enterprise sales has to grab market share. Actually, from both RIM and Microsoft, which has had big corporate sales in the past but whose lax smartphone strategy has created a huge opening for HP/Palm and Android.
Corporate customers are likely to see HP as a more solid partner in the smartphone space than Microsoft and, perhaps, even RIM.
Read more »
5