Don't-Miss Laptop Stories
How to Install an SSD in Your Laptop
Laptops are ideal candidates for solid state drives: These drives are more rugged and shock resistant than standard hard drives, since they have no moving parts.
Matt travels on business a lot. He asked the Answer Line forum for suggestions on backing up his data while on the road.
Since I recommended removing a laptop's battery while using AC power, John Stevens asked if he needed a UPS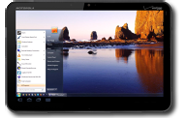 Check out these tips to stay safe on public Wi-Fi networks, keep your printing sessions secure, recover your lost or stolen tech, and more.
Having problems with your laptop? This collection of how-to's could just help.
Myloginname asked the Laptops forum what to do about a battery that's not charging