Don't-Miss Phone Stories
techhive.com
Watch the 2012 Super Bowl online, no matter where you are, with our guide to streaming the Giants vs. Patriots game on your PC, smartphone, or tablet.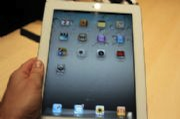 techhive.com
Tablets are everywhere today--and many more are on the way. We tell you what to consider, before you buy.
How to Create Android and iPhone Ringtones
Android and Apple smartphones are everywhere, and it can be hard to tell your phone apart from the crowd. Set a custom ringtone so that you know exactly when you're getting a phone call, text message, or voicemail.
How to Stream Digital Media From Your Windows 7 PC
A PC can serve capably as a hub for digital media collections, but sitting at a desk isn't the best way to watch movies. We'll show you how to stream media from a Windows 7 PC to a game console, a set-top box, or even a smartphone.
How to Fight Irrelevance in the Digital Age
Even companies that created today's cutting-edge technology can suffer the fate of troubled brands like Kodak. These three points can keep your business from joining them.
How to Boost Your Smartphone Battery Life
Tired of watching your phone die when you need it the most? Here's a collection of tips and tricks for wringing a little extra juice from your Android, iOS, or Windows Phone 7 smartphone's battery.
Featured Brands

Upgrade Your Business »