Don't-Miss Computer accessory Stories
The holidays are the perfect time to stop being so serious and engage in a little frivolity. These crazy USB gadgets will help out.
Insanely Priced Gifts for the Extravagant
Diamond-encrusted smartphones, virtual butlers, and sound systems to die for. Kanye West probably has most of these electronics already, but if not, here are our suggestions for what to get him for the holidays.
The Best Tech Holiday Gifts Under $200
If you have two Benjamins to spend on holiday gear for a loved one (or even yourself), you have a range of choices--including robots, kooky Japanese watches, great graphics boards, brightly colored USB 3.0 storage, and more.
Storage and Useful Gadgets: Best of 2010
Our picks for serious storage--like the 3TB Western Digital MyBook Essential and the Iomega eGo SuperSpeed USB 3.0--mix here with innovative mice such as the Microsoft Arc Touch, and easy networking in the form of Cisco's M20 Valet Plus.
Best HD Webcams for the Holidays
Improve your video-chat quality this holiday season by upgrading to high definition. Here are PCWorld's recommendations for the year's top Webcams.
Apple released iLife '11 at its Back to the Mac event in Cupertino, demoing three of the suite's updated applications—iPhoto, iMovie, and Garageband.
This week's deals are full of savings on home entertainment devices, including an HDTV and a Blu-ray burner.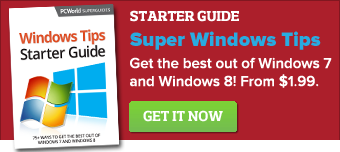 Featured Brands

Upgrade Your Business »