Don't-Miss OS X Stories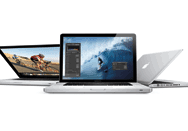 Apple May Kill Google Maps in iOS 6
Apple's desire to oust Google Maps from the iPhone is no secret, and the company's acquisition of several mapping companies may have accrued the necessary technology to offer its own.
Dell XPS 13: Gray With MacBook Air Envy
The XPS 13 is a fine, well-made, durable-seeming laptop with some style, but some people may prefer to spend their money on a faster processor and a lot more storage.
Windows 8 Dumps Default DVD Playback
Microsoft's Windows 8 will not ship with support for DVD playback. It says DVD playback will require a "marginal cost" OS upgrade or a third-party solution.
Featured Brands
Deals & Coupons »

Upgrade Your Business »