Don't-Miss Reference software Stories
Free Downloads to Make Use of PC Idle Time
Stepping away from your PC? Don't let it stop working for you--or for a lofty purpose. These eight freebies do everything from backup to scientific research, all while you're not looking.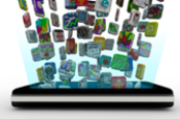 The best apps at Austin's South by Southwest show are the ones that have obvious utility outside Nerdville. Here are seven we liked.
Slate Wars: 15 Tablets That Could Rival Apple's iPad
The iPad has captured many hearts and minds, but a fleet of rival tablets led by a separatist Android army is about to attack, armed with HD Flash video, multitouch screens, front-facing cameras, multitasking...even Windows 7. Let's take a look.
Reference software Videos
Featured Brands
Technology that empowers you... »
Deals & Coupons »