Don't-Miss Tablet accessory Stories
25 Awesome Gadgets for $50 or Less
We scoured the Web for the best deals on 25 gadgets you might actually want to buy. All you have to do is sit back and click through the slideshow.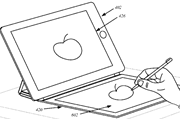 Make your time away from home go smoothly with these clever charging gadgets, camera accessories, diversions to keep the kids quiet, and more.
iPad Accessories for Music Lovers
You love your iPad 2. You love music. Now, if only there was some way to marry the two. Here are some new and exciting iPad accessories out there. All of the accessories listed are compatible with both the iPad and iPad 2.