Small & Mighty Ultrabooks are Moving
Extremely light-weight and incredibly mobile, the newest crop of PCs are an essential item for busy students.
School is upon us once again, which means it's time for the ancient tradition called the, "Back to School Shopping List." Parents, friends, and loved ones: Be afraid.
After all, today's students have plenty to pack into their wish lists. There are the bare essentials of student life: Folders, binders, and other organizational devices for the younger students; portable music players, gaming consoles, and the most up-to-date gadgets from the technological world for the college-bound scholars. And outfitting a student with everything he or she needs to succeed for the academic year certainly isn't cheap.
So, which item do you buy first? None of them. None, because few devices can simultaneously address all the needs of today's students who require a mobile device that performs high-intensity tasks with speed and extensive connectivity. And the list doesn't stop there: Students need a product that's easy to lug around, quick to load up, and easy to type on – and there's only one category of devices that meets these needs and more.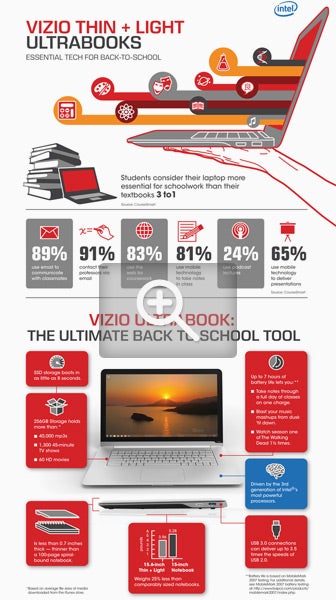 We're talking about the Ultrabook: more powerful and longer-lasting than the netbooks of yesteryear, with every bit as much accessibility as a standard laptop PC (minus the weight). Ultrabooks give students the flexibility to learn, play, and work without putting a crimp in their shoulders or giving them a subpar computing experience on a highly portable device.
Don't just take our word for it; consider the following categories where Ultrabooks like VIZIO's line of Thin + Light systems deliver the most compelling experience for today's students.
Mobility
Ultrabooks sit in the perfect middle ground between a huge, oversized laptop and an underpowered tablet. At 14 inches or 15.6 inches, many ultrabooks offer a large enough of a screen size to allow students to take notes in class, organize and edit pictures, and effectively browse the Web without having to squint or feel as if they're trying to manipulate a screen that's barely bigger than their blue books. Better still, they're light weight enough so that stuffing them into a messenger bag or backpack won't be an impossible task.
For example, VIZIO's line of Thin + Light ultrabooks are just that: designed to deliver high speed performance in a featherweight sleek chassis. The difference between a 2.5-pound device and a 4-pound device might not sound like much on paper, but it's the difference between day and night when you're carrying it with you all day through several classes.
Power
It takes a fairly beefy processor to allow a portable PC to adequately process high-resolution media without skipping frames or otherwise crawling to a halt. VIZIO's Thin + Light ultrabooks run Intel's latest generation of Ivy Bridge CPUs, which gives them the processing power needed to handle just about any task a typical student could throw their way. Students love to multitask, and the Ivy Bridge-powered VIZIO ultrabooks won't let them down.
Additionally, the solid-state storage found in these systems makes an ultrabook run at super speeds. The extraordinarily fast boot-ups of VIZIO's SSD-powered ultrabooks means that students won't have to wait for their systems to load when they need to make a quick note about the location of that evening's study session. After all, no one wants to miss out of the first five minutes of a speed-talking professor's lecture because their laptop took forever to boot.
Together, Ivy Bridge processors and SSDs work in tandem to deliver as much battery life as possible without sacrificing an ultrabook's sleek aesthetic or lightweight form factor. Up to seven hours of total battery life – coupled with a number of Windows features designed to preserve the battery whenever possible – ensure that students will be able to connect, work, and research without spending huge amounts of time searching for a nearby power outlet. For the student frequently on the move, awesome battery life is a no-compromise, must-have attribute in a portable PC.
Connectivity
What good is a high-powered, highly mobile laptop that is lacking essential inputs or can't easily connect to the internet? Spoiler: Not much.
VIZIO's Thin + Light ultrabooks come with integrated 802.11n dual-band wireless connectivity, which allows your students to access top-of-the-line wireless networking setups. Which is just a fancy way of saying that Wireless-N networking delivers faster speeds, longer ranges, and more consistent connections as students meander their way from classroom, to dining hall, to their dorm rooms. For students working on group projects, being able to tap into super-speedy networking means more time for creativity and working, less time watching the bar on one's download window slowly crawl its way from left to right.
But VIZIO's ultrabooks don't stop there. Built-in connections for USB 3.0 give frequently mobile students – who might just chain their ultrabooks to their dorm room desks – the ability to quickly slap files, projects, and movies on a portable hard drive or flash key and head out the door. This also means faster backups for those looking to store a copy of their dissertations on a (critical) removable device – a lifesaving practice in the event of room theft, coffee on the keyboard, or other such calamities the modern-day student sometimes faces.
Screen and Sound
But school isn't just about work. When it comes time to unwind and stream some movies with one's dorm friends (or classmates during a study period, if you're discrete), VIZIO's line of Thin + Light ultrabooks deliver compelling quality for their streamlined profiles. With HD+ (1600-by-900 resolution) display or IPS screen technology in a Full HD (1920-by-1080 resolution) display, , depending on the size of the ultrabook, delivers a brilliantly clear picture at impressive viewing angles. In other words, students can easily huddle together to stream class lectures from a cramped laboratory or watch films with their friends with amazing audio quality thanks to SRS Premium Sound HD™ technology.
VIZIO's 14- or 15.6-inch ultrabooks also feature full HDMI ports, so students can easily transport their media to a larger screen by just plugging in an HDMI cable. With up to 256 gigabytes of total storage, VIZIO's ultrabooks allow students to easily store and transport around more than 40,000, five-megabyte MP3s, 125 1.5-gigabyte television shows, or 30 seven-gigabyte movies.
There's little the modern-day ultrabook can't handle, and they're a perfect device for a hustle and bustle kind of student life. From the convenience of their size, to the quality of their construction and display, to the potency of their performance and connections, ultrabooks are as integral a part of the student experience as a course pack. They weigh a lot less, too.
Battery life ratings are for comparison purposes only, and do not indicate the battery life that will be obtained by any individual user. Battery life will vary depending on the product model, configuration, features, applications and power management settings. Wireless functionality will also impact battery life. Published battery life times are the results of testing performed on select models and configurations at the time of publication. Over time and as is normal, the battery will not perform at its maximum capacity and may need to be replaced. Replace the battery only with approved parts. Battery life is based on MobileMark 2007 testing. For additional details, see MobileMark 2007 battery testing at: www.bapco.com/products/mobilemark2007.