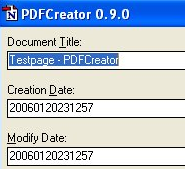 Current Version
1.0
Author
Capsoft Inc.
Price
$8.00
Downloads Count
224,826
License Type
Shareware
Date Added
Dec 18, 2007
Operating Systems

Microsoft Windows 2000
Microsoft Windows XP

File Size
8.152 MB
Description
PDF Creator is simple to use and can save you a ton of money over the Adobe product line. If you know how to Print, then you know how to use this software. PDF Creator is a virtual printer that will allow you to print any file to a PDF document. In as quick as 1-2-3 you can make your own professional PDF documents!