Don't-Miss Audio Stories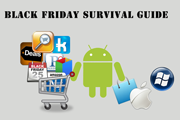 Four Netflix Alternatives Tested
Do recent changes to Netflix's services make you angry? We tested Netflix against four solid alternatives to see whether switching video providers is worth it.
This online music service provides an incredible catalog for a monthly subscription, with a free option.
Xilisoft iPhone Magic is the ideal iPhone manager to transfer iPhone music, videos and pictures to your computer and copy your iPhone contents to iTunes library. On top of this, this iPhone transfer can also convert and copy nearly any video and music format to iPhone, as well as rip DVD movies and transfer them to iPhone. You can even treat your iPhone as a portable hard disk with this amazing iPhone Magic software. Key features: 1.Backup iPhone contents to computer. 2.Synchronize iPhone with iTunes library. 3.Convert and copy any video/music file to iPhone. 4.Rip DVD movies and transfer them to iPhone. 5.Manage iPhone as a portable hard disk. 6.Supports iPhone, iPhone 3G, iPhone 3GS, iPod touch. 7.View your device's properties and information on the main interface: type, generation, serial number, format, version and others. 8.Synchronize files between iPhone and computer at fast transferring speed. 9.Edit the ID3 info of several files at one time: name, artist, year, album and others. 10.Play iPhone videos/music and DVD movies in the built-in resizable player. 11.Create playlists for your iPhone and edit them as you wish to manage your iPhone files by categories. 12.View your iPhone files in thumbnails like album artwork or list view for easier organizing. 13.Filter your files by genre, artist's name, album name, album year and others; search the files you want by your keyword. 14.Support multiple iOS devices simultaneously 15.Read and export pictures and videos recorded by the device 16.Resume playing of the transferred videos on the device 17.Directly preview the devices videos, music and other files less than 8MB on the computer
Add life, bass, and clarity to your music and video playback with this utility.
Easily convert any music files to MP3, AAC (M4A), WMA or WAV formats. 50x conversion speed. SoundTaxi Professional is very easy to install and has a simple user interface. With just a few mouse clicks you can enjoy all your music on iPod, any other MP3 player, CD player, mobile phone or PC - without any restrictions.
Intelliscore Ensemble WAV to MIDI Converter 8.0
IntelliScore Ensemble helps you transcribe music. It listens to your multiple-instrument CD audio, WAV, and MP3 files and helps create multi-track MIDI (.mid) files containing the notes and drums played, broken down by instrument, chord names, and key. Then you can take those MIDI files and view the notation, change individual notes, and swap or mute instruments. You can also compose MIDI music in real-time by singing or playing any instrument. Are you looking for an easier way to get musical notation from recorded music? Want to play along to a favorite song but just can't quite differentiate between the guitar and bass parts? Let intelliScore do the difficult work for you. Spend more time making music and less time figuring out the notes. Features: * Helps you figure out the notes chord names and key present in multiple-instrument MP3, WAV, WMA, AAC, or AIFF files and CDs. Unlike "pitch detectors" intelliScore can convert music that contains more than one note at a time time (such as chords) and more than one instrument at a time, including drums * Expressive nuances such as pitch bend, vibrato, brightness, tremolo, and portamento are recreated on instrument tracks that contain one note at a time * View and edit scores and individual tracks once your WAV, MP3, WMA, AIF, AAC, or CD files are converted into MIDI * Sing or play a non-MIDI instrument and see the notes appear in Anvil Studio or your own MIDI sequencer * Play your MIDI synthesizer live by singing or playing any musical instrument into a microphone attached to your computer. Turn your voice into a MIDI instrument! * See the names of the chords and key present in your WAV, MP3, AAC, AIFF, or WMA file * Rip CD music convert it to MIDI (.mid) file then play it in your MIDI keyboard * Build a multi-track MIDI score one track at a time by singing or playing a non-MIDI instrument * Helps create a lead sheet by detecting the lead part from a multi-instrument audio file or CD