Don't-Miss Stories
Kobo Rebuffs Apple, Will Build HTML5 Bookstore
The e-book seller released an app meeting Apple's new policies but also announced plans to build an HTML5 e-reading app that will work in the iOS browser that it'll control itself, with no requirement that it follow Apple's rules.
Google Books Bows to New Apple App Store Rules
The Google Books iOS app is now in line with Apple's newly enforced rules that ban links bypassing Apple's own in-app purchase mechanism, which means Apple can retain its 30 percent cut.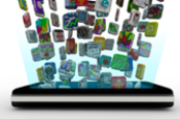 Will HTML5 Kill the Mobile App?
Native apps are expensive to make and hard to promote; with a powerful new upgrade to HTML now emerging, developers may opt for apps that run in mobile browsers.
Featured Brands
Technology that empowers you... »
Deals & Coupons »