Don't-Miss Stories
Robot Roadies Game Coming to iOS
In the upcoming game app, the aim is to collect the many strange and outrageous items demanded by members of a hell-raising rock band.
Holiday Tech Gadget Sneak Peek
Gadget makers are gearing up for the holidays, showing off AudioBulbs, Kinect add-ons, and sub-$250 tablets. Here is a look at what they'll be promoting.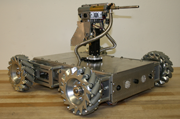 Featured Brands
Technology that empowers you... »
Deals & Coupons »