Don't-Miss Stories
TechHive: The HDTV You'll Get For Your Money
techhive.com
A new 1080p HDTV will cost you anywhere from $500 to $11,000. In some cases, spending extra cash will go towards obvious differences. In other cases, you'll be paying for features you may not need.
Big and beautiful TVs earned the most oohs, ahhs, and accolades at CES, including super-slim OLED displays with stunning pictures and prototype wireless TVs that ditch unsightly cords.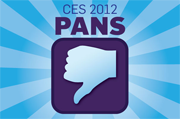 We saw super-thin HDTVs, many of them Internet-enabled. Other TVs featured built-in Blu-ray players and new backlighting schemas.
At the IFA conference in Berlin, Sharp displayed a prototype solar-panel that could power a LCD TV. The technology is at the stage where a single panel can provide sufficient energy to watch 4.5 hours of TV per day.
Every year it happens: as the summer approaches in northeast Asia and the weather heats up, the gadgets get hotter too.
Sharp demonstrated an ultraslim prototype that gets its signal wirelessly.
Featured Brands

Upgrade Your Business »