Don't-Miss Stories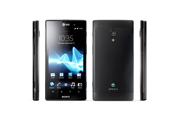 TechHive: The HDTV You'll Get For Your Money
techhive.com
A new 1080p HDTV will cost you anywhere from $500 to $11,000. In some cases, spending extra cash will go towards obvious differences. In other cases, you'll be paying for features you may not need.
TechHive: The Future of Connected Cameras
techhive.com
At the 6Sight Future of Imaging conference, industry execs and analysts discussed the future of wireless sharing in cameras, from 4G connectivity to user-interface challenges.