Don't-Miss Stories
Healthbook, Android Wear, and a haunted empire
The rise of health-related apps and devices, questions of the relevance of App.net, the new book "Haunted Empire" about Apple after Steve Jobs, and an avalanche of smartwatches spurred on by Android Wear announcements. With guests Christopher Breen and Philip Michaels.
Clockwise 5: Passwords are like democracy
TV industry changes, the sharing economy jumps the shark, cameraphones versus cameras and phones, and Google's latest tablet offensive. With guests Jon Phillips and Armando Rodriguez and hosts Jason Snell and Dan Moren.
Jobs' house burglar gets seven-year sentence
The man who broke into the Palo Alto, California, home of late Apple CEO Steve Jobs and stole laptops, iPads and other possessions has been sentenced to seven years in a California state prison.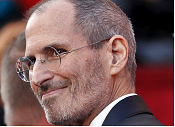 Featured Brands
Technology that empowers you... »
Deals & Coupons »