Now Playing:
Hands On: Samsung Galaxy S4
Mar 15, 2013 10:33 AM -
Samsung debuted its Galaxy S4 at a lavish event in New York Thursday night. Here's a closer look at Air View, Dual Shot, Multi-Screen, and gesture control features.
Read the related article:
The Samsung Galaxy S4 watches you back
Recent and Recommended Videos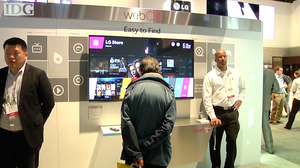 Featured at last week's CES show, LG's webOS televisions aggregate live and on-demand content into a single, easy to navigate interface.