A good tablet can offer the portability of a laptop without many of its traditional drawbacks, such as a clunky keyboard and stationary form factor. But if you already own a laptop and a smartphone, you might wonder why you might need a tablet at all.
Perhaps our Refurbished Event can entice you. Until September 30, you can purchase a refurbished Microsoft Surface 3 Atom for only $239.99, no coupon necessary. With this tablet, you can enjoy content on a wider screen than your phone while getting serious work done thanks to its powerful specs.
What are the internals, you ask? This Surface 3 Atom contains an Intel Atom x7-Z8700 processor and 4GB of memory, allowing you to read content comfortably, watch movies, write papers, create presentations in PowerPoint, and more without hiccups. Speaking of presentations, the tablet has a three-point kickstand that allows you to prop itself up, which might come in handy when sharing slides in one-on-one meetings.
All your content is displayed on a 10.8-inch 1,920×1,200p display with 10-point multi-touch functionality. The Surface 3 Atom even offers wireless connectivity via WiFi and Bluetooth, so you can turn it into a real work machine by syncing a keyboard and mouse.
During our Refurbished Event, which runs from September 17 to 30, you can purchase this Microsoft Surface 3 Atom for $229.99.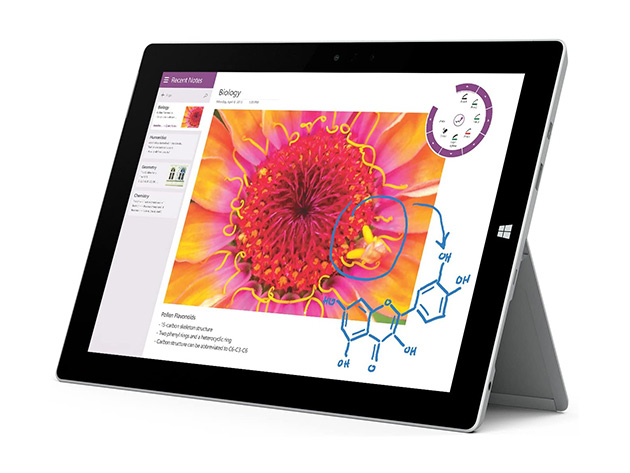 Microsoft Surface 3 Atom 4GB 128GB SSD Touch Windows 10 Pro – Black (Refurbished) – $239.99
Prices subject to change.