"Your e-mail's piling up, Bass." My editor was right, sure; but that's not the point. It's that he acts like a den mother, always nagging and finding chores for me. But despite my rebellious bent, I had to admit: There was indeed a backlog of e-mail, kvetching about an Intel speed-up product I recently mentioned in the magazine.
Intel's Hurdle-Jumping Accelerator Site
In our September issue I mentioned a nifty utility available from Intel; see the paragraph titled "Pedal to the CPU Metal" in "Must-Have Free Utilities Catalog 2003."
The problem is, I don't have the legroom in my column--I've got a scant 650 words--so I couldn't provide details on how to use the utility. Un error grande. More than 50 readers wrote to complain that they thought little of Intel's Web designers (and me): Navigating the site was confusing as all get out.
I agree, so this week I put together a quick tutorial with images from the site. BTW, the Intel Accelerator works on all Windows platforms, including Win 98, Me, NT 4.0, 2000, and XP. OTOH, for those of you with non-Intel CPUs who downloaded the utility, found it didn't work, and quickly sent letters of displeasure, let me gently explain something: You really need an Intel processor in order for something called an Intel Accelerator to work. But don't worry, I've got speed-up tips for you too: Skip to "Want More Speed? No Problemo."
Jump Right In
Start by going to Intel's site to download, then run the Intel Chipset Identification Utility. That's the best way to determine the ID for your Intel chip set, short of digging out the manual (something I wouldn't dream of doing either). Here's how you do it:
1. Select your operating system.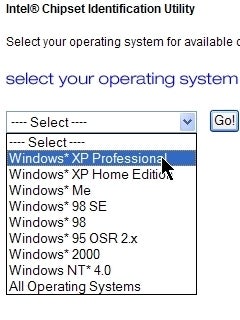 2. Click the Download link on the right side of the page.

3. Okay, I know, you just clicked "Download." Intel takes pleasure in making you jump through hoops, so do it again.

4. When your browser's download manager appears, choose Open (Chipset ID is a small program--there's no need to actually download it) and in a few seconds, the utility displays information about your PC's chip set. It will look similar to the image below. Remember the detected chip set; or do what I do--leave the ID utility open (I'm inherently lazy).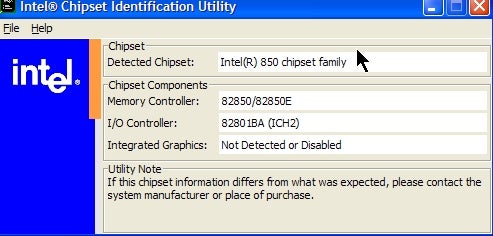 Quick Tip: When I download a program like Chipset ID--and there's little chance I'll need to install it again--I choose Open rather than Download in the Download dialog box. That saves me the steps involved in opening Windows Explorer, finding the program, clicking it, and then deleting it after I'm done. The program still downloads to my PC (it lands in the browser cache) and the installation starts automatically.
Dig This: The BioMotionLab at Ruhr University in Germany has a cool site. Check out the walking stick figure--I'll bet you can quickly determine the gender. Hint: Click on Lines, then move the aqua slider left and right. [With thanks to Gus.]
Have the ID? Get the Right Accelerator
After you've got the scoop on your chip set, head for the Supported Chipsets page to see if your chip set's on the list. If it's not there, skip the next few paragraphs and move on to "Want More Speed? No Problemo." (You might also tell your IT department that Bass suggested you need a faster PC. I'll sign a note if necessary.)
If you saw your chip set in the list, whiz on over to Intel's Application Accelerator page and click "Download the Intel Application Accelerator."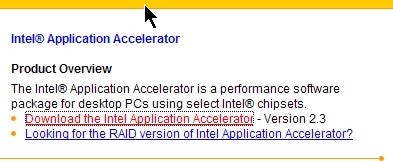 Go through the same steps you did with the ID utility: Agree to the license and choose your operating system. That should get you to the download page.
Choose "English: iaa23_exe" (unless you prefer the utility in another language) and click Download. If you see your specific Intel Chipset in the "additional product downloads" list at the bottom of the page, you might as well click that, too; you will find a chip set specific utility, such as an updated audio driver or an AGP configuration tool.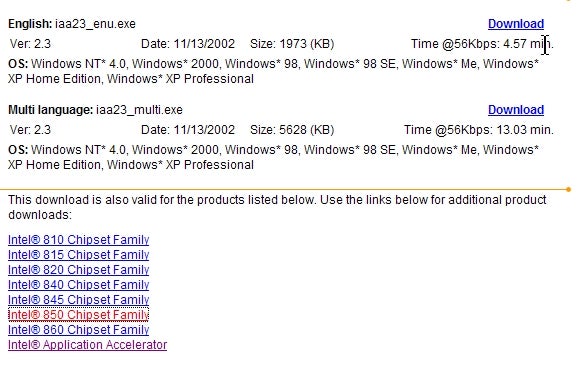 Once you download, install, and run the Intel Accelerator program, you'll probably have to reboot your system. Then sit back and enjoy a speedier PC.
Quick Download: If you want a free utility that will dig deeply into your system and give you a professional and comprehensive report of every minute detail, download a copy of AIDA32.
Want More Speed? No Problemo
Intel's utility gizmo is valuable, but there are other products you can use to squeeze every last drop out of your PC.
Our downloads guy, Max Green, spends lots of time collecting utilities and organizing them. (In this case, his obsessive personality is a good thing.) If you browse "Best Troubleshooters: Fix Problems, Speed Up Your System," you'll find a great collection of valuable speedup tools. When you get to the page, click License in the menu header to see which products are free, or Downloads to see the most popular.
BTW, the one tool on that page I use and recommend is the Boot Log Analyzer. It's great for seeing what's loading--and what's stalling--when you boot your system.
Dig This: Give someone a big bunch of barcodes and a couple of days to waste, and you get some interesting art. (My favorite is, of course, is the portrait of the Ruler of Redmond's Evil Empire.) [With thanks to Doug M.]